TEB Skills
Young people who are disengaged or disconnected often face a disproportionate share of stress and adverse events, but they can use cognitive-behavioral skills to enhance their resilience.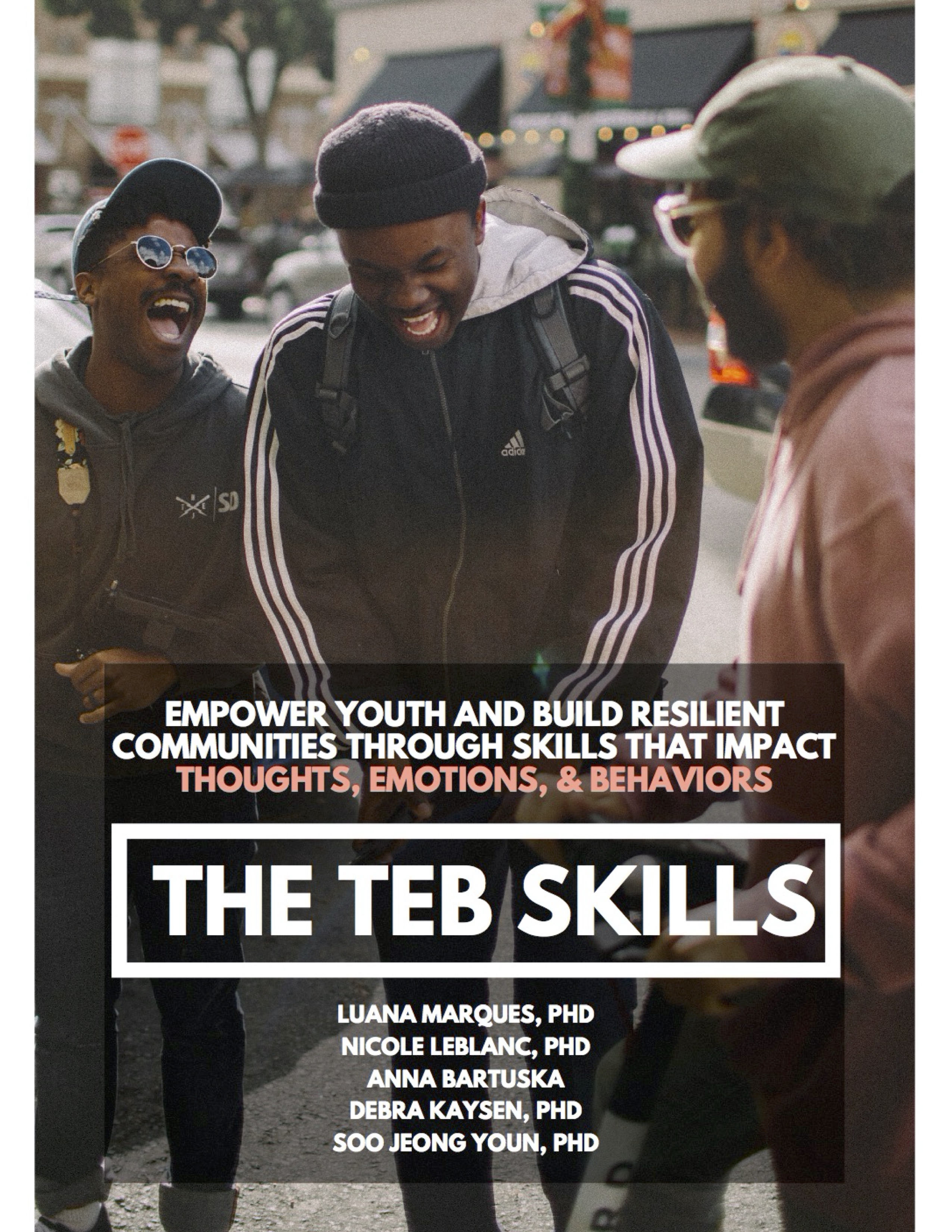 Though cognitive-behavioral skills are considered a gold standard in the psychotherapy field, research has found that it usually takes 15 to 20 years for such evidence-based therapies to reach underserved, resource-restricted communities.
Through the Connecticut Opportunity Project, Dr. Luana Marques and her team at Community Psychiatry PRIDE have designed a skills-based cognitive-behavioral curriculum called The TEB Skills that is customized to reach youth who are disengaged and disconnected, and designed to be delivered by youth development professionals in a community-based setting.
To broaden the reach of this work, the Connecticut Opportunity Project is making the curriculum available for download as an open-source resource.
Dr. Marques and her team is training and coaching the full staff of each of the initiative's partner organizations so that they can learn how to successfully deliver TEB skills to the young people they serve. By learning to teach youth strategies that they can use to better regulate their thoughts, emotions, and behaviors ("TEB" skills), Connecticut Opportunity Project partner organizations will strengthen their capacity to deliver positive, long-term outcomes for youth.
Learn How to Use TEB Skills
TEB skills can be helpful to anyone who is dealing with ongoing stressors. In the wake of the COVID-19 crisis, Dr. Marques with support from Dalio Education created a free online course available through Massachusetts General Hospital's "Psychiatry Academy" on how to use TEB skills to better manage stress.
Learn more about the science of stress:
Learn more about the TEB cycle, which is the foundation of the TEB skills:
Through Dr. Marques' free online course, you can learn more about TEB skills through additional videos and activities. Sign up here.
About Dr. Marques
Dr. Luana Marques is the Director of Community Psychiatry PRIDE at Massachusetts General Hospital (MGH) and an Associate Professor of Psychiatry at Harvard Medical School. Dr. Marques is a national and international expert in Cognitive Behavioral Therapies (CBTs) and a leader in bringing science-backed mental health for all. Through her research, she aims to decrease disparities in care for individuals experiencing behavioral health difficulties, especially among low-income and ethnic minorities. You can learn more about Dr. Marques' work through the TedX talk below.
Community Psychiatry PRIDE is an implementation and dissemination clinical research center housed in the Department of Psychiatry at MGH/Harvard Medical School, with a central focus on implementing evidence-based practices in resource-constricted settings and improving the mental health care of their most vulnerable patients. PRIDE's mission is to bridge the gap between science and practice by bringing evidence-based treatments to community settings, which, in turn, leads to increased access and quality of care across a wide range of psychiatric disorders. PRIDE provides a framework for consultation, training, and supervision of community-based providers in their delivery of evidence-based treatments for mental health problems, and builds strong community partnerships that deliver treatments that are culturally-relevant, responsive to the unique challenges of the community, and sustainable.