Model
Through the Connecticut Opportunity Project, Dalio Philanthropies provides partners with the resources and support they need to strengthen their organizational capacity and attain high performance for the young people they serve.
Our Theory of Change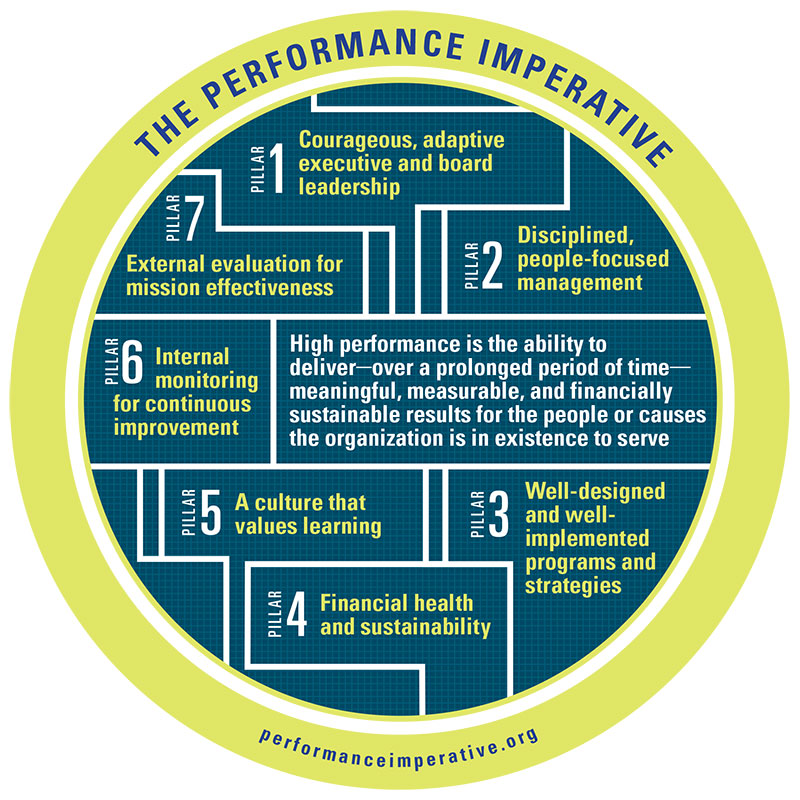 The Connecticut Opportunity Project has adopted The Performance Imperative framework created by the Leap of Reason Ambassadors, a community of non-profit thought leaders, practitioners, researchers, and policymakers. This framework delineates the seven core domains of organizational capacity that support high performance and details what excellence in each domain looks like.
We collaborate with each partner at the beginning of a relationship to create a comprehensive baseline assessment of organizational capacity, which evaluates their performance against a series of specific practices and behaviors across these seven domains. From that baseline, partners set quarterly benchmarks for tracking improvement in each domain over the course of the grant period.
As summarized in the graphic below, our theory of change incorporates and builds on the Performance Imperative to form a comprehensive set of intervention strategies that comprise the support we provide to our non-profit partner organizations to help them strengthen their organizational capacity and become highly-effective, high-performing organizations capable of driving positive, long-term outcomes for young people.
Key Performance Indicators
Over time, partners' efforts to strengthen their organizational capacity yield improvements in the initiative's Key Performance Indicators (KPIs), which measure progress toward our north star of improving positive, long-term outcomes for young people. In addition to tracking improvement in organizational capacity on a quarterly basis, partners monitor the following KPIs on an annual basis:
For each partner, the following KPIs are measured at baseline and at the end of each year:
Level of evidence for Core Program Design, Levels 0 – 4 *
Level of confidence for Core Program Effectiveness, Levels 0 – 3 **
# of Target Population Youth enrolled in Core Programming, which is designed to produce specified outcomes for enrolled target population members
#/% of Target Population Youth who are enrolled in Core Programming and participating in Active Slots, receiving the appropriate level and type of services called for in Theory of Change
#/% of enrolled Target Population Youth who leave Core Programming prematurely
#/% of Target Population Youth who graduate successfully from Core Programming
#/% of Target Population Youth who have graduated successfully from Core Programming and for the following six months are attending school 90% or more, or maintaining competitive employment
When aggregated across partners, these partner-level KPIs represent the KPIs for the Opportunity Project as an initiative.
* 0 = program design by partner's staff based solely on their ideas and experience; 1 = program design based on incorporation of widely shared practitioners' "best practices"; 2 = program design based on applying fundamental research concepts (e.g., "attachment theory"); 3 = program design based on combining and incorporating elements that repeatedly are found in programs whose effectiveness has been proven by impact evaluation(s); 4 = program design based on implementing program in full that has been proven effective through impact evaluation(s).
** 0 = Asserted Effectiveness as supported by anecdotal data; 1 = Apparent Effectiveness as supported by internally collected outcome data; 2 = Demonstrated Effectiveness as supported by well benchmarked outcome data; 3 = Proven Effectiveness as supported by one or more rigorous impact evaluations.