Annual Report
The inaugural Annual Report from the Connecticut Opportunity Project (CTOP) marks and reports upon the first implementation year of the initiative's newly refined 10-year youth development social investment strategy.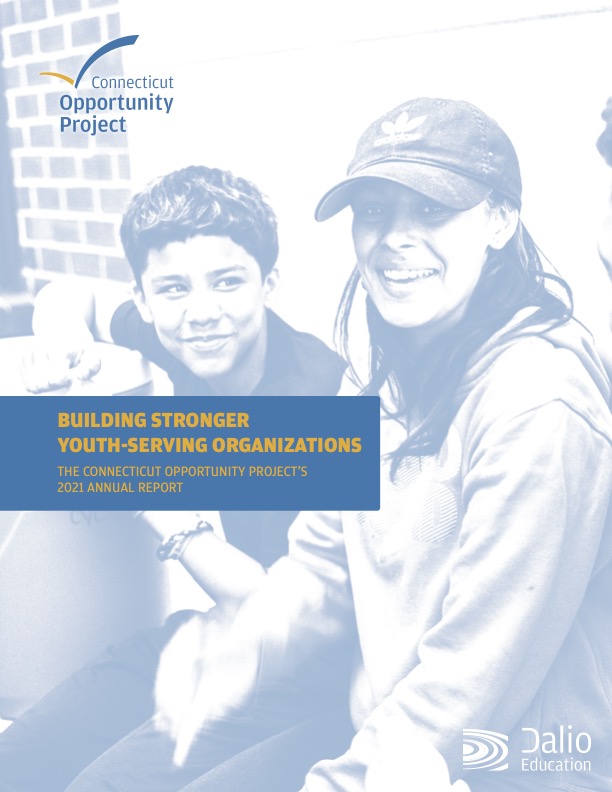 Co-founded in 2016 by Barbara Dalio and Andrew Ferguson, and funded and operated by Dalio Education, CTOP's mission is to invest in and help strengthen youth-serving organizations in Connecticut so they can work effectively, reliably, and sustainably with young people ages 14 to 22 who are disengaged or disconnected from school, work, or other pro-social institutions – in order to help them re-engage in and complete secondary education, then transition successfully to the pursuit of post-secondary education (such as a technical certification, military enlistment, or an academic degree) – with the ultimate goal that all young people will achieve satisfying employment to support their agency and self-sufficiency.
CTOP's rigorous investment strategy identifies clear criteria for selecting grantees and a systematic approach to helping to build their operational and programmatic capacities using general operating support grants. Core to this approach is the technical assistance and consultation we offer from carefully selected and highly regarded providers, our efforts to develop our own knowledge, skills, and capacities to do this work reliably and effectively, and the Key Performance Indicators we have developed and use to monitor and manage our efforts and their effects.
In aggregate over the course of 2020-21, the three grantees in which CTOP invested beginning in 2019 – COMPASS Youth Collaborative and Our Piece of the Pie in Hartford, and Domus Kids in Stamford – delivered 384 active service slots comprised of program positions occupied by disengaged and disconnected young people who are receiving the array of services needed to help them improve their lives and prospects, and notably are receiving them at the levels of frequency and duration that are necessary for them to benefit as intended.

CTOP also began three new investments in 2021: in New Haven's Connecticut Violence Intervention Program (CTVIP), in Bridgeport's Regional Youth Adult Social Action Partnership's Youth Services Division (RYASAP), and in bringing Roca's well-evaluated Young Mothers' Program to Hartford – and we have been joined by the City of Hartford, the Hartford Foundation for Public Giving, and the Tow Foundation in funding Roca's work in Connecticut.
As our grantees continue to expand and refine their programs and to build up and build out their programming over the course of the year ahead, we expect that by June 30, 2022, CTOP's grantees in aggregate will have grown the number of active service slots for disengaged and disconnected young people to approximately 650.
It is a humbling experience and a great privilege to work with our grantees, and especially to support and celebrate the work of their dedicated, creative, and brave front-line staff members. We are honored to report on our grantees' hard work in 2021 and share a preview of what's ahead in 2022 in our inaugural Annual Report, available at the link below.