Research Agenda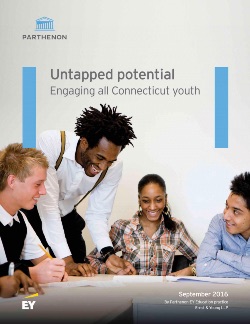 It has been six years since we published Untapped Potential: Engaging all Connecticut Youth, which reported on the demographic patterning of, and risk factors facing, young people who are disengaged or disconnected from school, work, and/or pro-social institutions in Connecticut. In the meantime, the Covid pandemic has disproportionately affected these young people, especially youths of color ages 14 to 26, and the extent of the impact is not yet well understood.
We are launching the next phase of our Research Agenda to better understand the realities faced by young people who are disengaged and disconnected; and to identify ways non-profits, agencies, and communities can work most effectively to support young people in achieving success. We are commissioning three studies:
Quantitative research to update Untapped Potential. We are commissioning Boston Consulting Group to conduct a new study of Connecticut's young people that focuses on those who are ages 14 to 26, who are disconnected from age-appropriate societal institutions such as school or work or who are at risk for becoming so, and who may be involved with the juvenile and criminal justice systems. This study will involve a comprehensive quantitative analysis of various datasets to answer questions such as: How many young people of high school-age are disengaged or disconnected from school today? Where and when are these students falling off-track? What would it take to help them graduate ready for the future? For youth who are disconnected from school and work, what unaddressed needs (for supports and opportunities) do they have? We hope this study results in a clear statewide understanding of the realities faced by young people who are disengaged or disconnected; and contributes toward a renewed urgency for working collaboratively to help all young people achieve success.
Qualitative research to understand the lived experiences of young people who are disconnected from school, work, and/or pro-social institutions in Connecticut. The topic of disconnected youth suffers from varying definitions. They often are simply and wrongly conflated with youths who are "over-age and under-credited," with an insufficient focus on the impact community violence and poverty have on them. Amplifying these concerns, the lack of good qualitative data that illuminate their experiences in their own voices blocks our understanding of their actual needs – and thereby weakens the ability of program design, advocacy, and service delivery to meet their requirements. Therefore, we are supporting a robust qualitative research effort that leverages culturally responsive inquiry through focus groups and individual interviews. We hope this project will result in a deep understanding of disconnected youth themselves. We also intend this project will help us look for alignment between what disconnected young people have to say with the work of individuals and organizations that are engaging with and serving them across the state and even beyond.
A thorough review of all research and evaluation findings that identify the program elements and practices that are effective in helping disconnected young people across the county improve their lives. In 2016, MDRC released "What Works for Disconnected Youth," a landscape scan that examined the current state of programming, policies, and the existing evidence base regarding which services drive impact for this target population. We are commissioning MDRC to refresh this research while investigating key issues and questions that remain. The study will examine the different populations who are often referred to as "disconnected youth"; conduct a national review of programs serving them that have underdone rigorous impact evaluations in recent years; explore what has been learned about how to help such young people attach to the workforce; assess the rising evidence-base for the use of cognitive behavioral theory to improve outcome achievement; and illuminate the impact COVID has had on program design and service delivery.
We expect that, together, these three parts of our Research Agenda will work synergistically to inform and support the efforts of all stakeholders who work with and on behalf of young people who are disengaged or disconnected across Connecticut and beyond.